The roots of this exciting moment in our history reach back all the way to when Jeremy Hess Photographers first started 13 years ago. Over those 13 years, we have had the privilege of recording some of the most important moments in the lives of our clients.  Along the way, I began to capture images for commercial clients as well. 4 years ago, Donovan Roberts Witmer left his job in the editorial world to join the team, focusing solely on commercial photography. Each year, the commercial side of our business has grown as we have created relationships with local, regional and national businesses.
Over the past year, it really became clear that the time was right for us to create a new brand solely devoted to sharing and growing our commercial work. We have seen a lot of growth in this area, and are thankful for the businesses and brands that have invited us to help them capture their stories. As we began to reflect on the past and look to the future, we knew that the best way to steward what we have been given in the commercial field was to allow it to grow into something entirely different.
With that in mind, we are so excited to introduce The Premise Studio.
Although we are launching an entirely new identity, the principles and values that you have come to know and expect from the Jeremy Hess Photographers team have been reaffirmed as the foundation on which The Premise Studio will be built. When we partner with brands and clients, it is our goal to first identify what it is that makes the brand unique, and then to capture the story visually – giving our clients the tools they need to communicate their message confidently with their audience.
As we launch this new company, we are excited to introduce video and film production to the services that we offer. While this is a new medium for communication for us, the principles at the core remain the same. We look forward to the opportunity to walk alongside brands and business as we create films and videos that get to the heart of what makes them great.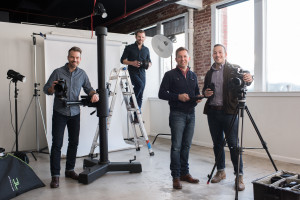 With change there are always questions, and we would love to talk more with you if you're curious about what we're up to, and what this all means. Here are some questions we have gotten frequently over the past weeks:
Are you simply changing your name?
No, The Premise Studio is an entirely new company that will only capture for commercial clients. Jeremy Hess Photographers will still exist for personal and individual clients.
Will Jeremy Hess still offer weddings?
Yes, at this point, Jeremy Hess will continue to book a limited number of weddings each year. He will continue to offer engagement and portrait sessions as well.
Will you be moving?
No, at this time, both Jeremy Hess Photographers and The Premise Studio will operate from our studio at 824 1st Street in Lancaster!
We are so excited for this new chapter in our journey. If you would like to follow along, you can find us on Facebook and Instagram!